Well, I've thought about doing some screening for years and I finally bought some supplies and got started. Anyway, I'm going to be putting these on ebay, but thought I'd offer some here first. I need to order more blank T-shirts, but I have 18 Shirts in various sizes right now.
The shirts are extremely comfotable 50/50 blends by Hanes and seldom need to be ironed (I hate ironing). Just shake out and wear! These are not cheap Iron-On's or Heat Transfers, but silk-screened with high quality palstsol garment ink.
I have 5 already printed with the design you see in the pics:
The first two people that "Private Message" for an "XL", and the first three people that "Private Message" me for a "L" will have their shirts shipped out by tuesday. I will contact those people with my PayPal info.
Two XL's
Three L's
The other 13 shirts will be printed Mon/Tues and shipped by Wed/Thurs. On these shirts, since they have not yet been printed you may opt to delete "Race Car Driver" text.
Five XL's
Six L's
Two M's
I will contact everyone with my PayPal info and shirts are on a "First Private Message, First Serve" basis. If you PM me and I have sold out of that size I will let you know and give you the opportunity to let me know that you are still interested so I will order your size when I re-order Shirts (which will be soon.
Shirts are $18 shipped
This Is Me Modeling a "Large"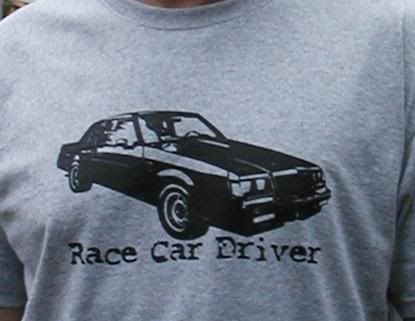 Don't forget to mention your Size !!
I will respond as soon as I get back home from work late tonight (6-25-04)